Beth Devino, CPA/PFS
Senior Financial Planner
Beth Devino brings close to 20 years of experience in finance, corporate accounting, and auditing to her position as a Senior Financial Planner at Connecticut Wealth Management (CTWM). Beth leads planning engagements with multifaceted clients, ranging from corporate executives and retirees to business owners and attorneys. She maximizes her time with clients by helping them to better understand how their financial and personal lives intersect, and at the same time, helps them to discover and verbalize their long-term financial goals. Beth leverages this information to construct an initial financial plan that sets the course for clients to achieve financial success.
Prior to joining Connecticut Wealth Management, Beth was a 401(k)-plan administrator for a large family-owned business. Beth also spent several years at United Technologies Corporation in the financial reporting group and spent three years in public accounting at PricewaterhouseCoopers.
Education & Certifications
Beth graduated Magna Cum Laude from Bentley College with a Bachelor of Science degree in Accountancy and holds a Master of Business Administration degree from Quinnipiac University. She also received a Master Personal Financial Planner Certificate from Elkin B. McCallum School of Business at Bentley College.
Beth is a Certified Public Accountant and a Personal Financial Specialist (CPA/PFS), a credential granted by the AICPA exclusively to CPAs who have the combination of extensive tax expertise and comprehensive knowledge of financial planning.
Affiliations & Community Involvement
Beth is a member of the America Institute of Certified Public Accountants (AICPA). She is a former board member of Holy Cross High School in Waterbury and a current member of their Endowment Corporation.
Additionally, Beth is involved with various charities in the Greater Waterbury area including monthly meal preparation at Saint Vincent De Paul Mission. She also serves on CTWM's Charitable Committee, and actively participates in the firm's community outreach efforts.
Beth has a love of golf and enjoys spending time entertaining friends and family at her home.
Senior Financial Planner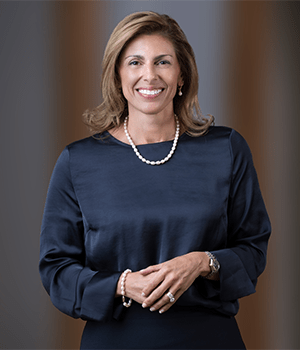 Contact Beth Devino, CPA/PFS