Charles L. Olson, CFP®
Partner & Managing Advisor
Charles (Chip) Olson joins the Connecticut Wealth Management (CTWM) team with more than 35 years of experience in the financial services industry. Chip is passionate about this business and has extensive experience and knowledge in financial planning, investment management, and trusts & estates. Chip works with wealthy families, entrepreneurs, widows, business owners and nonprofit organizations to develop customized solutions to meet their goals and objectives. For Chip, his work is all about building deep and genuine relationships. He prides himself on carefully listening to his clients, helping them to attain their dreams and preserve their wealth through the generations. Chip approaches each relationship with a mindset of, "How would I want my family treated?"
Previously, Chip was a Senior Wealth Advisor at Wilmington Trust, a subsidiary of M&T Bank, where he focused on business development and wealth preservation strategies. Prior to this, he was director of business development for Webster Bank's wealth management division and was president and CEO of Phoenix National Trust Company. Chip has also held executive positions with other major institutions, such as Cigna and U.S. Trust Company.
Education & Certifications
Chip holds a Master of Business Administration (MBA) in finance from the NYU Stern School of Business and a bachelor's degree in economics and sociology from Hobart College. He is a CERTIFIED FINANCIAL PLANNER™ (CFP®) licensee.
Affiliations & Community Involvement
Chip is active in the surrounding community, and currently serves on the Investment Committee for the United Way of the Capital Region and is former chair of the Connecticut Estate & Business Planning Council. Chip is very passionate about raising awareness and fundraising for a cure for type 1 diabetes (T1D). He is a former board member of the Juvenile Diabetes Research Foundation (JDRF), an organization he attributes to helping him and his family understand the disease.
Chip loves to fish and recently became a U.S. Coast Guard Approved Charter Captain. He is an outdoor enthusiast who loves to ski, hike, bike, and garden. Chip currently resides in Simsbury with his wife and college sweetheart, Nancy. The two enjoy going for long walks and spending time with their two grown sons, Charlie and Hunter.
Partner & Managing Advisor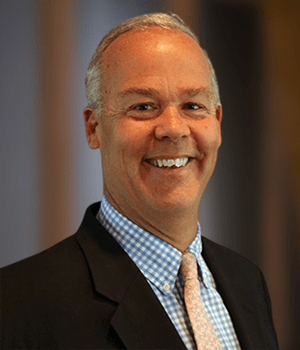 Contact Charles L. Olson, CFP®