Kathleen Christensen, CPA/PFS, CDFA®
Partner & Managing Advisor
Kathleen M. Christensen brings over 25 years of experience in finance, tax planning, and accounting to her position as a Partner at Connecticut Wealth Management, LLC (CTWM). She has a strong background in financial planning and investment management and provides wealth management services to high-net-worth clients with complex financial affairs.
Kathy oversees CTWM's Charitable Outreach Committee and is a member of the CTWM Investment Committee.
Prior to joining CTWM Kathy worked for Filomeno Wealth Management, Deloitte, and Cigna. While at Cigna she advanced through numerous leadership roles and graduated from their respected Financial Development Program (FDP).
Kathy has appeared on NBC Connecticut and has been quoted by CNN Money and Financial Advisor Magazine.
Education
Kathy graduated from the University of Hartford with a Master of Business Administration degree with a concentration in Taxation and earned her Bachelor of Science in Accounting from Fairfield University. She is a Certified Public Accountant and a Personal Financial Specialist (CPA/PFS), a credential granted by the AICPA exclusively to CPAs who have a combination of extensive tax expertise and comprehensive knowledge of financial planning. In addition, Kathy is a Certified Divorce Financial Analyst (CDFA®).
Affiliations & Community Involvement
Kathy is a member of the American Institute of Certified Public Accountants (AICPA) and the CT Society of Certified Public Accountants (CSCPA). She sits on the Board of Directors of the Bridge Family Center, chairs their Development Committee, and serves on the Bridge Children's Charity Ball Committee. Kathy is a member of the Connecticut Women's Council and of the Hartford Estate and Business Planning Council.
Kathy has been recognized as a Five Star Wealth Manager* by Crescendo Business Services (2015-2022); the elite list appears annually in Connecticut Magazine.
She resides in West Hartford with her husband, Curt, who is a parishioner at the Church of St. Peter Claver and enjoys running, yoga, and spending time with her three grown children.
* The award is based on expertise, value for fee charged, and overall satisfaction.
Partner & Managing Advisor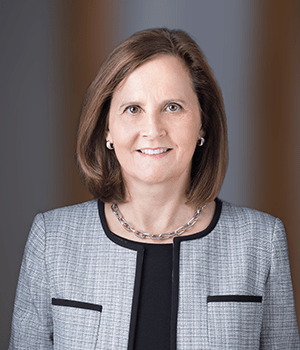 Contact Kathleen Christensen, CPA/PFS, CDFA®