Making the connection between finances and life aspirations clear, so decisions are made with confidence.
When it comes to investment and wealth management, never settle for a one-size-fits-all approach. Founded in 2010, Connecticut Wealth Management (CTWM) set out to revolutionize wealth management through the services offered and how they are delivered with the goal of providing an unrivaled experience.
"When Denis and I first founded CTWM, we set out to create the best experience possible," says Kevin Leahy, CPA, CFP®, president and CEO. CTWM's mission states how the organization is committed to turning life's aspirations into a reality for its clients and team. "By being equally committed to both our clients and team members, we are able to provide a great experience for our clients."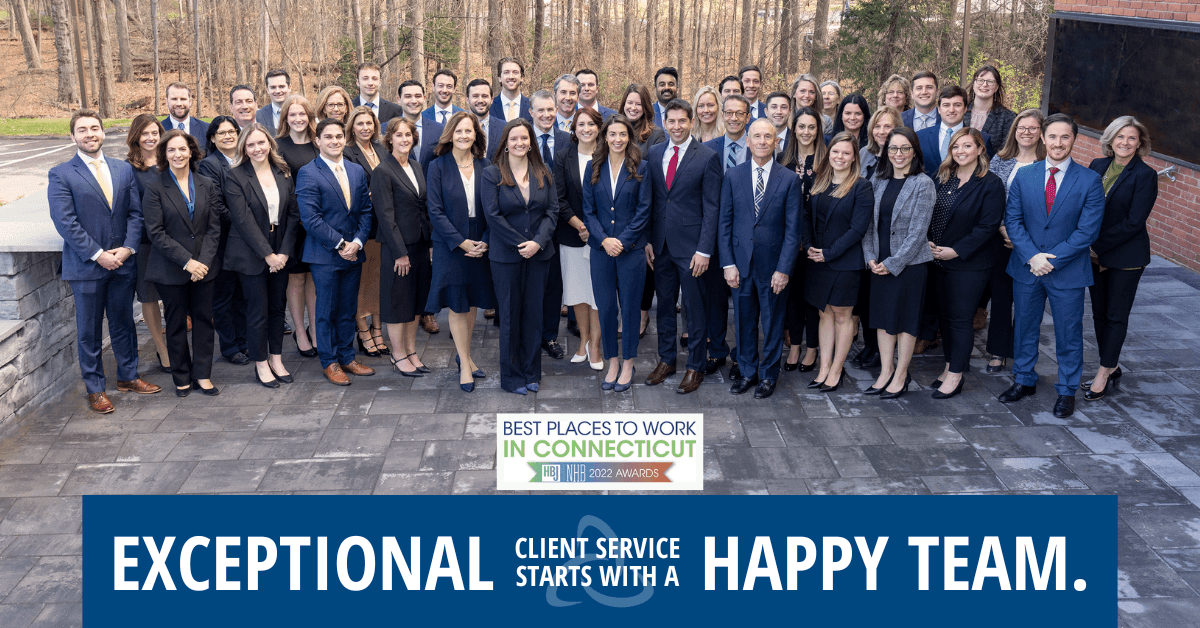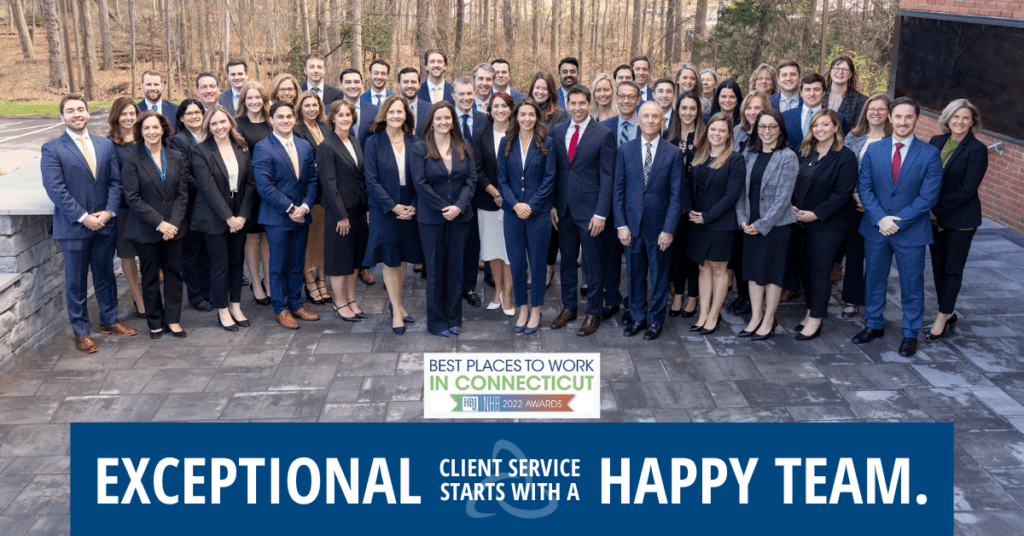 With 50 team members and growing, CTWM has built a unique atmosphere that thrives on collaboration. Not only does every client have a dedicated advisor, but they also have a dedicated team that is continuously working to ensure that the client's best interests are always top of mind and have a broad range of subject-matter experts at their disposal.
Because the firm prides itself on maintaining a very low client-to-advisor ratio, each advisory team can proactively reach out to clients and connect on a deeper, more genuine level.
"Most client meetings end in a hug, something that's rare in this industry," says Denis Horrigan, CFP®, CEPA®, partner and cofounder. The CTWM team gets to know its clients on a personal level, sharing stories about families, vacations, graduations, and other life events. "We treat our clients like family."
Clarity Beyond Investing
Every client interaction at CTWM starts with a plan. Having a stress-tested financial plan is the best way to endure the ever-changing economic landscape. Through the planning process, CTWM helps clients identify their unique goals and prioritize the things that matter most.
From this insight, the firm develops an investment strategy that is deeply rooted in this plan, something unique to CTWM. Portfolios that align with a financial plan can help investors be better prepared for events like bear markets or recessions. As goals change or the investment environment evolves, advisory teams collaborate with their clients to adapt their individual plan to these changes.
"We help our clients understand what the full picture looks like today and how this might change in 10, 20, or even 30 years from now," says Leahy.
However, there are more facets to wealth management than just investing. CTWM reviews things like retirement planning, tax savings and planning strategies, insurance and risk management, estate planning and wealth transfer, charitable giving, and business succession planning.
A Knack for the Complex
From business owners, executives/professionals, and retirees to multigenerational families, divorcees, and parents of children with disabilities, CTWM's clients typically have more complex financial planning needs.
While it is critical for all these individuals to work with a trusted financial advisor, the decisions of business owners and executives have nuances that may have significant long-term financial impact. CTWM's advisors work alongside them to alleviate the stress of managing their finances so they can focus on running their business or making an impact at work.
"Ultimately, it's our responsibility to ensure that our clients are happy, fulfilled, and leading their best lives," concludes Leahy.
*As seen in Fortune, Entrepreneur, Bloomberg Businessweek & TIME
---
Connecticut Wealth Management, LLC is a SEC registered investment adviser. Connecticut Wealth Management may only transact business in those jurisdictions in which it is registered or qualifies for an exemption or exclusion from registration requirements. This information is provided for educational purposes only. Investments involve risk and unless otherwise stated, are not guaranteed. Be sure to first consult with a qualified financial adviser and/or tax professional before implementing any strategy. This information is not intended to provide investment, tax, or legal advice.