Dan Ballou, CFP®
Managing Advisor
Dan Ballou is a Managing Advisor at Connecticut Wealth Management (CTWM). In his role, he leads a small advisory team in providing exceptional client service. Dan primarily focuses on developing comprehensive financial plans and investment strategies for multifaceted clients, including business owners, executives, and high-net-worth individuals approaching retirement. His passion for the industry is in helping people to better understand how their financial wellness impacts their life's dreams and how a well-laid-out plan can help them achieve their goals, whether that's retiring early, supporting charitable organizations, or ensuring a smooth transition of wealth to the next generation.
Dan also is an active member of CTWM's Investment Committee, where he collaborates with a team of advisors on researching and selecting investment vehicles and strategies that best align with the firm's approach and the client's best interests. He also serves on the firm's Charitable Outreach Committee.
Originally entering the financial industry through marketing, Dan transitioned into wealth management as a Senior Wealth Management Specialist at Andover, Massachusetts-based Putnam Retail Management. Prior to his role at Putnam, he served as Regional Marketing Director and Senior Regional Marketing Associate, all while regularly earning top marks in peer evaluations for his diverse range of talent and experience.
Education & Certifications
Dan Ballou graduated from the University of Miami, Coral Gables, Florida with a Bachelor of Business Administration. He is a CERTIFIED FINANCIAL PLANNER™ (CFP®) licensee.
Affiliations & Community Involvement
Dan has been recognized as a Five Star Wealth Manager* by Crescendo Business Services (2021-2022); the elite list appearing annually in Connecticut Magazine.
In addition to his charitable work within the firm, Dan serves on the board of directors for the Oak Hill Foundation, an organization he is very passionate about.
Dan resides in Hopkinton with his wife, Shelby, and their son, Jack. Outside of work, he enjoys running, golfing, and spending time with his family and friends on the beaches of Cape Cod.
* The award is based on expertise, value for fee charged and overall satisfaction.
Managing Advisor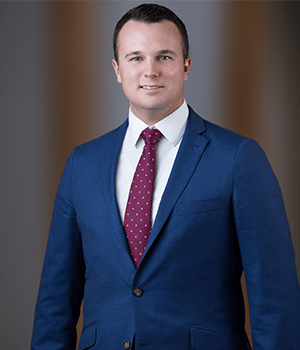 Contact Dan Ballou, CFP®