Kevin C. Leahy, CPA/CFP®
President & CEO, CPA/CFP®
Kevin C. Leahy has over 25 years of professional experience in wealth management, financial planning, and taxation. Kevin works with individuals with complex financial affairs including business owners, corporate executives, and medical professionals.
He founded Connecticut Wealth Management (CTWM) in 2010 and has been instrumental in developing the CTWM team and culture. As CEO of the Firm, Kevin is responsible for managing the firm according to its Mission Statement and Guiding Principles.
He is frequently asked to present to audiences including the Financial Planning Association of Connecticut, the University of Connecticut, the Estate and Business Planning Council of Hartford, and LPL Financial. Kevin's recognized expertise has resulted in numerous guest appearances on NBC Connecticut and WFSB.
Education
Kevin graduated from Providence College with a Bachelor of Science degree in Accounting and earned a Master's in Taxation with a concentration in Financial Planning from Northeastern University. Kevin is a Certified Public Accountant (CPA) and a CERTIFIED FINANCIAL PLANNER™ (CFP®) licensee.
Affiliation & Community Involvement
Kevin C. Leahy is a member of the Connecticut Society of Certified Public Accountants (CTCPA) and the Financial Planning Association (FPA). He is also a Member of the Board of Trustees for the University of Bridgeport, the Board of Trustees of Mercy High School, and the Investment Committee of the Middlesex YMCA.
Previously he has served as the board member of the Rushford Center, on various committees with the Estate and Business Planning Council of Hartford, and on the Professional Advisory Committee of the Hartford Foundation for Public Giving.
He is a devoted supporter of the Bridge Family Center, The Connecticut Forum, Hartford Youth Scholars, Farmington Land Trust, and Mercy High School.
Kevin has been recognized as CEO of the Year for Businesses Under 100 Employees by the Hartford Business Journal (2019) and was selected as a Five Star Wealth Manager* by Crescendo Business Services (2010-2022); the elite list appearing annually in Connecticut Magazine. In addition, he was selected as one of the top advisors by Medical Economics (2011-2017) and Dental Practice Report (2012). The Hartford Business Journal (2009) also chose him as one of the "40 under Forty".
He resides in Durham with his wife, Tracy, and their son and daughter.
* The award is based on expertise, value for fee charged, and overall satisfaction.
President & CEO, CPA/CFP®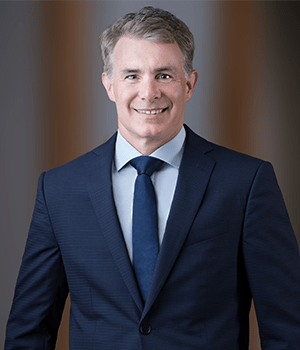 Contact Kevin C. Leahy, CPA/CFP®